There are plenty of things to worry about -- hot days or red traffic lights shouldn't be one of them. Stop worrying about overheating and upgrade your cooling system with ACP's Maxcore Radiators. A fusion of classic styling and advanced construction for modern flair and maximum cooling. In life, there's more to look at than your just your temperature gauge.


Its what's inside that counts. ACP Radiators offer an exclusive 3-Row Maxcore design that maximizes the count of large-sized tubes for increased flow, generating higher cooling efficiency. When the larger tubes are paired with more fins, you get coolant passing though the radiator core effectively. Your engine will thank you.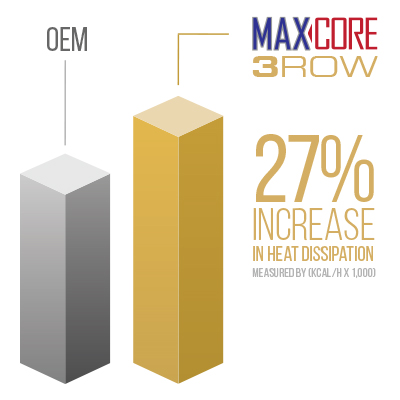 At a higher copper purity than the competition, ACP Maxcore Radiators are not only more efficient at transferring heat, but they are more durable when compared to other brands out in the market. Each Classic Series Maxcore Radiators are coated in a heat-resistant satin black paint.


Inspired by the factory original radiators Ford had manufactured, ACP took time to develop a radiator that captures the OEM appearance. The tanks are crafted with precision using modern CAD technology to replicate the design and style of the past.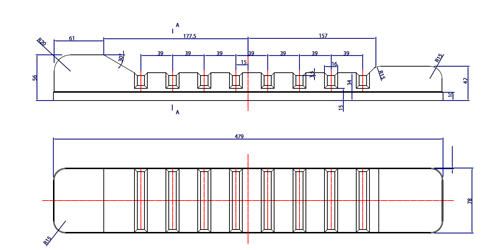 ACP Maxcore Radiators can be purchased at authorized ACP Dealers around the globe. Need help finding one? Click here.
MAXCORE Classic Series 3-Row Radiator is Available for the following vehicles:
FORD FALCON
Ford Falcon 1963-1965 | 260/289

Ford Falcon 1963-1965 | 5.0L Conversion

Ford Falcon 1964-1965 | 144/170/200

FORD MUSTANG
Ford Mustang 1964-1966 | 260/289

Ford Mustang 1964-1966 | 144/170/200

Ford Mustang 1964-1965 | 5.0L Conversion

Ford Mustang 1967-1969 | 289/302/351W (68- 69 no/AC)

Ford Mustang 1967-1970 | L6 200

Ford Mustang 1968-1969 | 289/302/351 (w/AC)

Ford Mustang 1969-1970 | L6 250; V8 302/350 (no A/C)

Ford Mustang 1967-1969 | 390/428

Ford Mustang 1970 | 302/351/390/428

Ford Mustang 1971-1973 | L6 250; V8 302/351/429

FORD MAVERICK
Ford Maverick 1970-1973 | L6 170/200

Ford Maverick 1971-1973 | L6 250; V8 302

FORD RANCHERO
Ford Ranchero 1963-1965 | 260/289

Ford Ranchero 1964-1965 | 144/170/200

Ford Ranchero 1963-1965 | 5.0L Conversion

Ford Ranchero 1970-1971 | 302/351/429

MERCURY COMET
Mercury Comet 1963-1965 | 260/289

Mercury Comet 1963-1965 | 5.0L Conversion

Mercury Comet 1964-1965 | 144/170/200

Mercury Comet 1971-1973 | L6 170/200

Mercury Comet 1971-1973 | L6 250

MERCURY COUGAR
Mercury Cougar 1967-1969 | 20" 289/302/351W

Mercury Cougar 1968-1969 | 24" 289/302/351

Mercury Cougar 1969-1970 | L6 250; V8 302/350 (no A/C)

Mercury Cougar 1967-1969 | 390/428

Mercury Cougar 1970 | 302/351/390/428

Mercury Cougar 1971-1973 | 351